A new Montana Madeira II bird cage for my lovebird
After months of waiting I finally got my new bird cage for my lovebird Apache, the Montana cage Madeira II. I had been searching for a good cage for my lovebird, but my demands were high. For example, it needed good locks. My lovebird is smart and can unlock things. I also wanted her to have more room to fly.
Why it took so long for a new bird cage
I have been looking for a better bird cage for my lovebird for about a year. I needed something sturdy, bigger than what I had and with better locks.
There are a lot of options out there, so I had to do research about what a lovebird requires when it comes to a good bird cage. Things like bar spacing and sizes for example. More about that can be found in my other blog post "How to choose the best cage for a lovebird".
I quickly found out that not all this information is given on every online pet store.
Eventually my eyes fell on the Montana cages. The website of a nearby pet store was providing me with a lot of the information I was after, so it took some time to choose between all their options.
After finally choosing what I wanted, turns out that the cage was out of stock. And not just at that specific pet store. Nope, nowhere in the entire country could I find this cage. Talk about it being popular. When I finally picked up the cage, I was told the delay was because they were reinventing the doors for food and water dishes, the pandemic could also have been at play. I also heard that I was lucky I had put an order in months ago, apparently, they are out of stock again.
Specifications of the Montana Madeira II bird cage
The Montana Madeira II has two parts; the cage and the cart it is on. In total it reaches a height of 153cm (around 5 feet). The cage itself is 85cm (around 2.8 feet).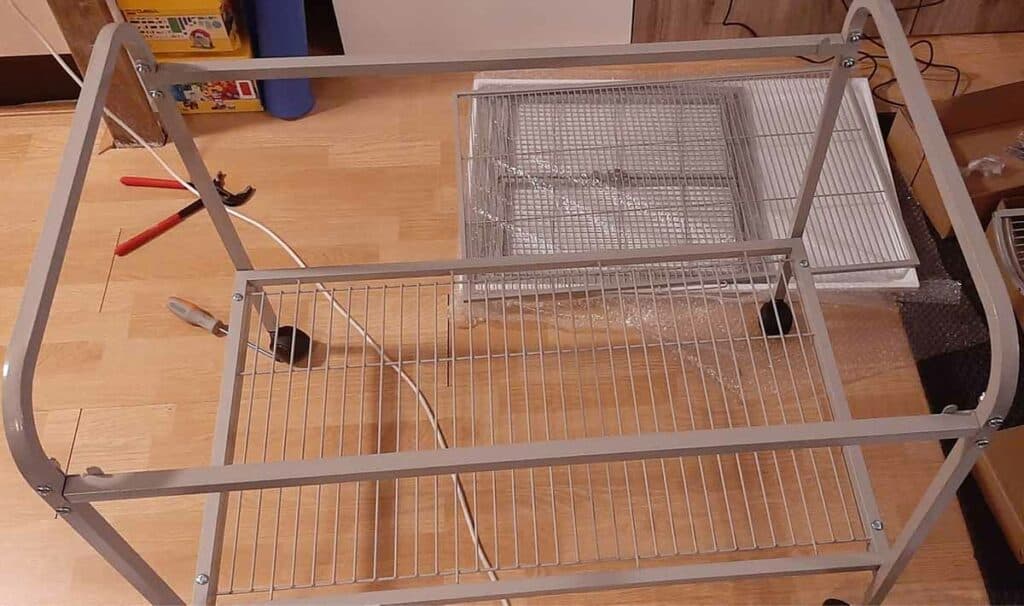 The bar spacing of this cage is 13mm (0.5 inches).
It has one big door at the front. Above this is a small, rounded drawbridge style door. Your lovebird can use this to perch on, with easy access to its cage.
The Montana Madeira II also comes with a basic kind of play top. As in the top can open and you can put a perch there for your bird to sit on. It doesn't have any food or water dishes there though, but you can hang toys from the door itself.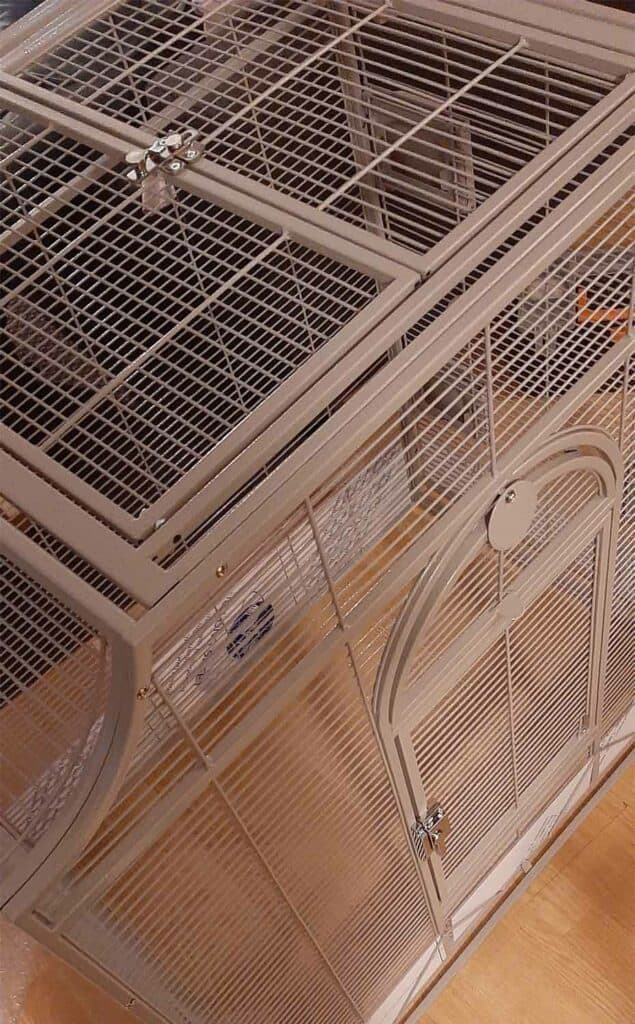 You get 3 dowel perches with this cage as well as 4 food/water bowls.
The cage sits on top of a cart with wheels. You are also given space underneath to store bird related things.
At the bottom of the cage a plastic tray will catch all the poop, food waste and other things your bird might drop. Your lovebird won't be able to reach it because of the bars above it.
Both the bars and the tray can easily be removed.
Just above this tray, around the entire cage there is an acrylic see-through guard. They are fitted on the outside of the cage so your lovebird can still climb on the inside. With these in place, the mess your bird might make when eating won't drop outside the cage, or at least not as much.
The bars of the entire cage are coated with Avilon powder. This is a non-toxic powder coating.
There are 2 color variants of this cage: antik (dark grayish) and platinum (light grayish). I have the light gray version.
The cage comes in one big cardboard box, which weighs around 31kg (69.4lb)
If you like the cage itself, but want a smaller version there is the Montana Madeira I: 69cm x 45cm x 141cm (27.2 inches x 17.7 inches x 55.5 inches).
Or you could go for a bigger one with the Montana Madeira III: 96cm x 58cm x 167cm (37.8 inches x 22.8 inches x 65.7 inches).
The building process
After opening the box, you are met with a lot of bubble wrap as well as some smaller cardboard boxes. I found the screws in one of these boxes, but the other one was empty for some reason. Probably was there to keep things from moving around too much.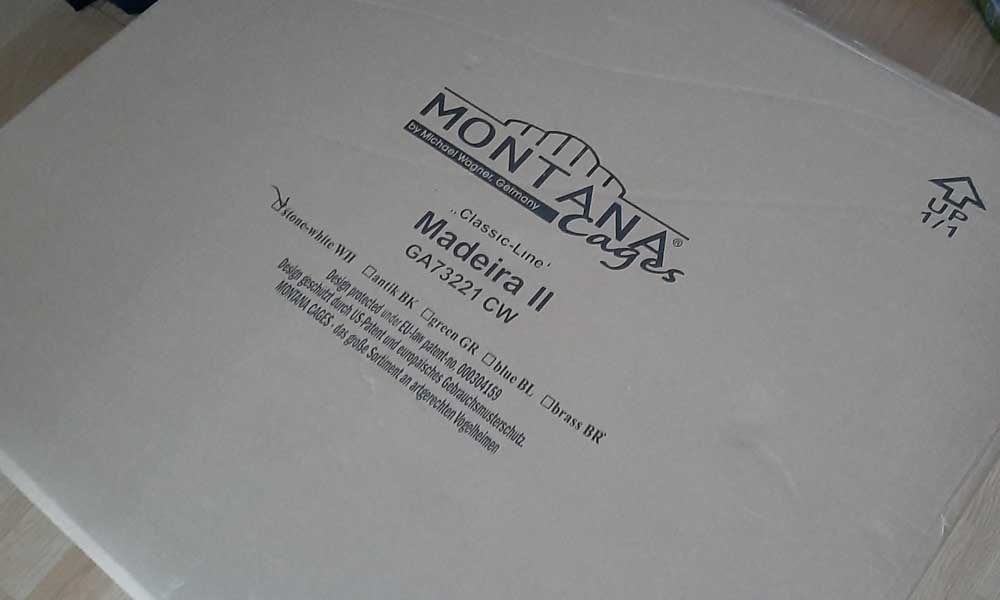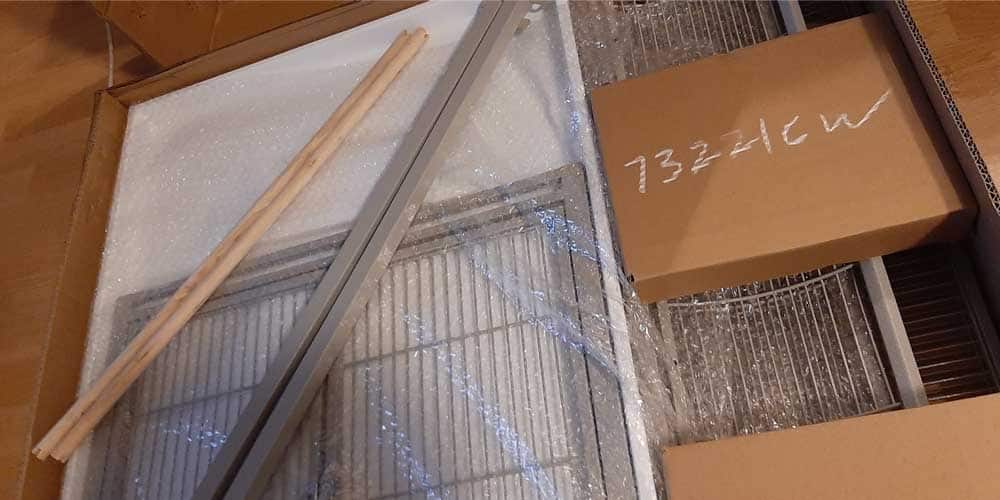 It also comes with instructions. Don't expect IKEA style instructions though.
I immediately… did not follow the instructions. I started with step 5 instead of step 1 which was not a problem at all.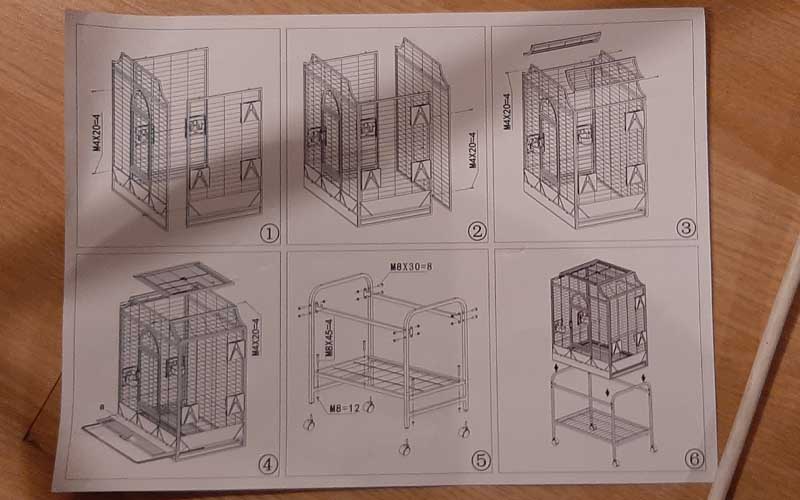 When building this cage, make sure you have plenty of room to do so. I had to do some weird athletic moves at points because I had everything spread over the floor. Don't be like me. Put things up right instead of flat on the floor.
Next to enough space you will need a Phillips-head screwdriver to put this cage together.
During the building process I noticed a few things weren't completely right. First off would be the tray guard that hides the plastic poop tray. It was slightly bent. This was easily fixable. I carefully bent it the other way and then it was fine.
However, one of the hooks this guard hangs onto was bent in such a way that I cannot for the life of me hang items on it. Luckily it was the middle one so the guard is still able to hang there without any problems.
What is nice to see is that many things are already put together. Like all the doors are already in place. When it comes to the locks, you only need to attach one yourself. This proves to be a bit of a challenge and required lots of trial and error. TIP: Do not screw it with the door being unlocked, then you probably won't be able to lock it.
Filling the cage with perches and toys
Before the cage even arrived, I had already purchased a couple of items for the new cage. However, I got myself some more when I picking it up.
When placing things inside the cage you might need another person to assist you. Especially with perches that have washers and butterfly nuts. I don't know about you, but my arms aren't long enough that I can reach the other side. What I didn't try was using the top opening, but this does require a stepstool. With the size of the cage, you can spread out the toys and perches nicely. Though placing them in such a way that a lovebird cannot poop on them can be a bit challenging.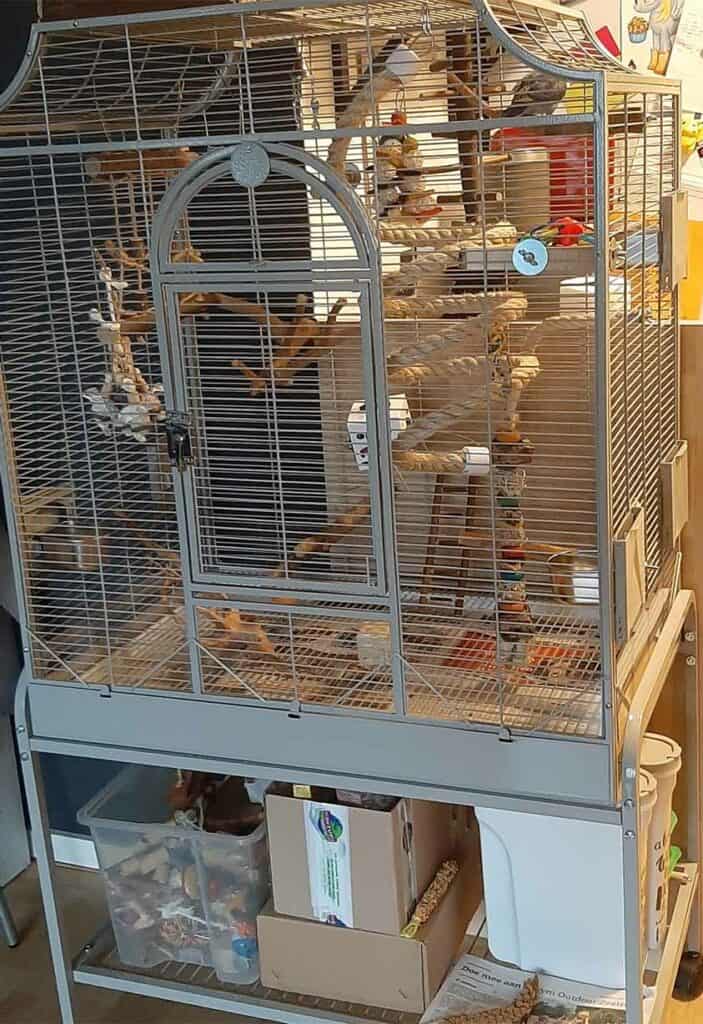 Introducing my lovebird to the new cage
The Montana Madeira comes with a big door. This allowed me to put the old cage against her new cage, with both doors open. I had to monitor it though, since there was a big gap between the cages. Just in case I closed some doors in the room and checked if all windows were closed.
My lovebird had no desire to move though. She placed herself the furthest away from this new scary thing. I let her be for a while… a long while. Eventually she did come somewhat closer but coaxing her with seeds (her favorite) wasn't even working.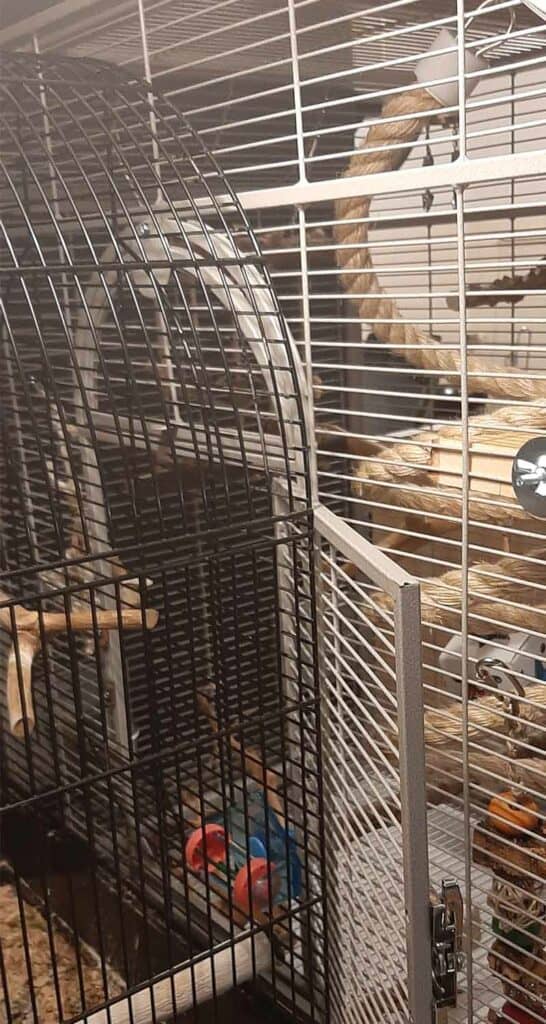 Since it was getting close to midnight, I wanted to prevent her from escaping and my boyfriend wanted to place a blanket over the smaller cage and opening. Just that blanket near her scared her and she flew right into the other cage. A bit shocked and alert she looked around her new place. I tried calming her down with some seeds and all was good again.
How it is going now
My lovebird loves her new cage. She is also less protective of it. This is partly because I often open the door and move things about on the bottom of her cage or fix a toy. I can do this without being close to her. Something I couldn't do in her old cages.
Sure, she still has her moments. Like when I want to change her water. She bit me when I tried doing that. Food somehow isn't a problem though.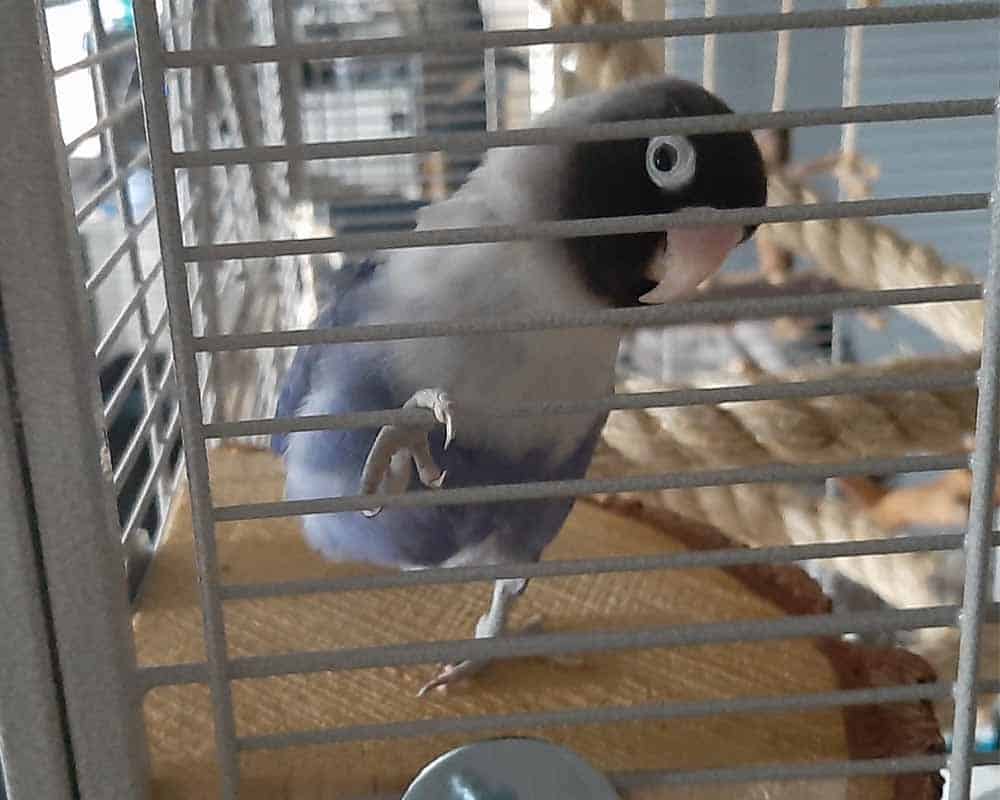 After a week of observing her I changed things a bit. I did this because of two reasons. One; she couldn't reach some of the toys in a way I saw her play with her toys in the past. Two; some perches were getting dirty. I know she is happy in her new home because it didn't take long to hear her lovely singing again or see her hanging upside down in her swing.