Are rope toys or perches safe for lovebirds?
There are a lot of rope based toys and perches for birds for sale. The safety for your lovebird depends, not just on the material that is used, but also the behavior of your bird. If your bird likes to destroy rope, it may be dangerous to leave them alone with rope toys or perches. Using sisal, hemp or jute based rope toys and perches are the safest for your bird.
What rope material is safe for your lovebird?
Rope toys for your lovebird should be based on 100% natural fibers like, hemp, jute, paper or sisal.
Never give your lovebird anything nylon based. Nylon strands are too strong and may injure your bird.
Is cotton safe for lovebirds?
You will find many bird toys and perches are cotton based and it is best to avoid these as much as possible. Cotton frays a lot and can be ingested by your bird causing stomach issues.
The dangers of a rope toy or perch
Lovebirds are known for destroying things. Be it toys, perches or even their cage.
When they gnaw on rope toys, fraying occurs, this is especially dangerous with cotton rope. If you don't maintain the ropes properly or replace them with a new rope toy, your bird may get stuck in the rope. This may cause your bird to panic and only get entangled further as it tries to free itself. This can cause terrible injuries (or worse) to your bird.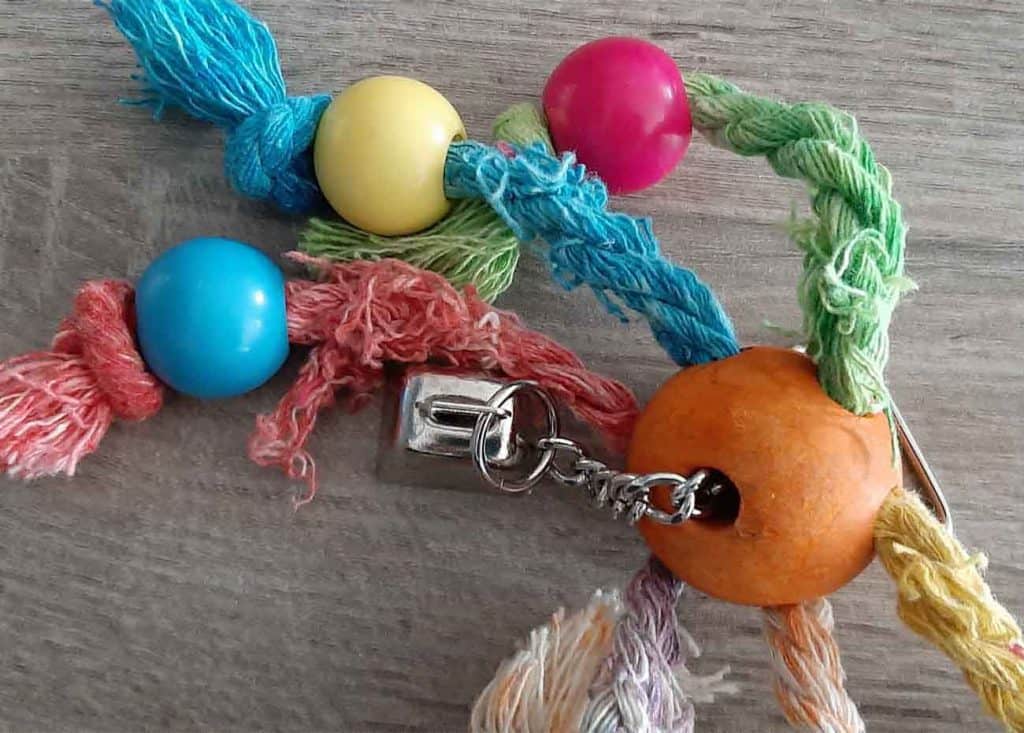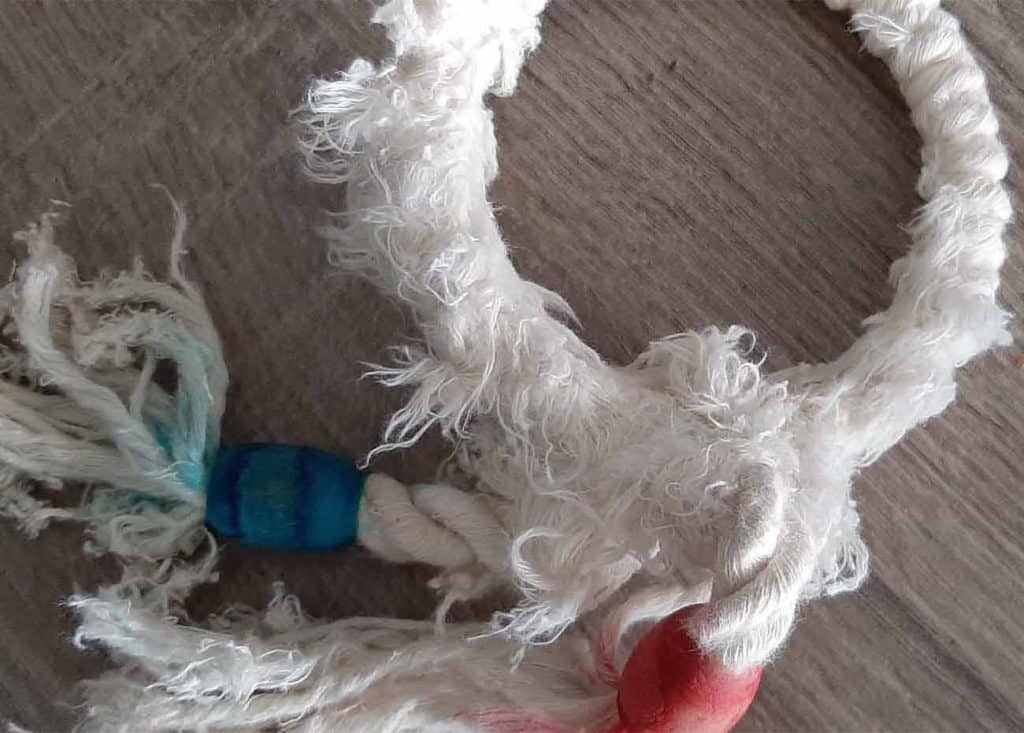 It is also possible your bird may chew and swallow rope strands, which may cause major health problems. If you suspect that your bird has swallowed rope fibers contact a veterinarian immediately and remove the rope from the cage.
How to prevent the dangers of rope toys or perches
You can take steps to prevent the dangers to your lovebird from rope. Firstly check your rope toys daily, especially if you have cotton ropes. It is best is to avoid cotton based toys and perches entirely if possible. If you do have bird toys based on cotton, you should try to replace that rope with a safer material.
If your bird is getting stuck in the rope, cut away the frayed pieces. If your bird really likes to gnaw on their toys, I recommend you replace them with a sisal rope toy or perch as it is easier to digest for your bird.
An extra measure you could take is to hang the rope toy in such a way that your bird's feet don't get entangled in it. My lovebird, Apache's rope toy was hanging too close to a perch and sometimes the rope was lying over the perch. She would sometimes walk over it and get stuck on the rope. Luckily she quickly managed to free herself without my help. By moving the toy away from the perch I have avoided the danger.
Should you leave your lovebird alone with a rope toy or perch?
If you are not home often, or are gone for long periods of time and don't want to risk your bird getting stuck, remove the rope toy and rope perches before you leave the house. This way you avoid the risk of your bird getting stuck and possibly becoming dehydrated or starve.
If your rope toys and perches are based on sisal, hemp, jute or paper, it is fine to leave them. If it is a cotton material I don't recommend you leave it with your bird unsupervised and should remove it from its cage when you are not around.
Safe rope toys and perches for lovebirds that like to chew
If you have a lovebird that likes to chew on things, don't use cotton based toys and perches rather use sisal, paper rope, hemp or jute. You can also, give your bird something easier to gnaw on and there are many bird toys created simply for your bird to destroy. By giving your bird other options it is less likely to chew on rope, but no guarantees here.
The benefits of rope toys or perches
While rope toys may have dangers, there are some benefits to it.
Rope perches are great for your bird's feet. It has been proven that rope toys help birds with feather plucking problems.
Some rope toys like a bungee rope toy (spiraling rope) comes with the benefit of improving your bird's stability and coordination.