Why is my lovebird's tail bobbing?
We call the extensive up and down movement of a lovebird's tail, tail bobbing. Lovebirds will bob their tails for several reasons. If they have played extensively or flew around a lot, then they simply might be out of breath.
Tail bobbing can be one of the symptoms of a respiratory infection, a common disease among lovebirds. If your lovebird's is tail bobbing extensively even if they have done little to no exercise, there is a good chance they might be sick, and you should contact your local avian veterinarian to make an appointment.
If you have a hormonal lovebird, she could have egg binding or distocia when tail bobbing excessively.
Is tail bobbing while breathing normal?
Tail bobbing is considered normal in the following situations:
When lovebirds chirp.
When lovebirds breathe, BUT it is a very slight movement, which might not even be noticeable.
When they have used up a lot of energy from playing, flying, or doing other activities. This should stop after a while as it is your lovebird's way of panting.
Why is a lovebird tail bobbing?
Lovebirds have muscles located at the base of their tail which help them with expanding their lungs. Therefore, you can see slight movement of the tail when they breathe.
When your lovebird has trouble breathing, these muscles at the base of their tail need to work harder to increase air intake.
Tail bobbing and a respiratory infection
If your bird's tail is bobbing repetitively and for long periods of time even if your lovebird has not been exercising, then your bird might have a respiratory infection. Contact a vet immediately.
Signs of a respiratory infection besides tail bobbing
Labored breathing
Wheezing
Wet breathing
Coughing
Stained feathers around the nostrils
Change in voice or loss of voice
Sneezing
Nasal discharge
Open mouth breathing.
What can cause a respiratory infection
A respiratory infection can be caused by many things. One thing to consider is the location of your lovebird's cage and if you are providing a diet with sufficient vitamin A and iodine.
Your lovebird might contract a bacterial infection which can develop into respiratory problems. Like the bacterial infections, Coryza, Mycoplasma synoviae, Mycoplasma gallisepticum, Mycoplasma meleagridis or Psittacosis.
Viral infections that can cause respiratory problems are Fowl Pox, Avian influenza, Infectious Bronchitis, Infectious Laryngotracheitis, Viscerotropic velogenic, Newcastle disease or other Paramyxoviruses.
Your lovebird can also have allergies which may cause tail bobbing and breathing problems. These can be triggered by touching, inhaling, or ingesting an allergen. The allergies can be seasonal, so keep an eye out when the breathing problems occur.
Lice and mites may also carry nasty diseases that may infect your bird.
If your lovebird has asthma it can easily get a respiratory infection. Yes, birds can have asthma too.
How to prevent a respiratory infection
Make sure that your lovebird's cage is not near a draft, window or heater and is far away from the kitchen.
Clean the cage regularly.
Clean your birds' water daily. If you find dirt, poop, toy parts etc in it, clean it again. Even if that means 3 times a day (looks at Apache).
Treatment for a respiratory infection
The treatment of a respiratory infection depends on the cause. It may include medicine, vaccines, or other cures.
When your lovebird is diagnosed with a respiratory infection, keep it away from other birds so the disease does not spread. Clean its bird cage thoroughly and try to eliminate possible cause of the disease.
Tail bobbing and egg binding and dystocia
Tail bobbing could also be a sign of egg binding or dystocia. Keep an eye on your female lovebirds when they are hormonal.
Both egg binding and dystocia occur in female birds that haven't been exposed to a male.
Dystocia is when your female lovebird has problems laying an egg because of an obstruction.
Egg binding happens when the egg doesn't pass through the reproductive system at a normal rate.
If you suspect your lovebird has problems laying an egg, contact a vet.
Keep in mind that after laying an egg your bird might also be out of breath. Laying an egg takes quite a bit of energy and they need to catch their breath.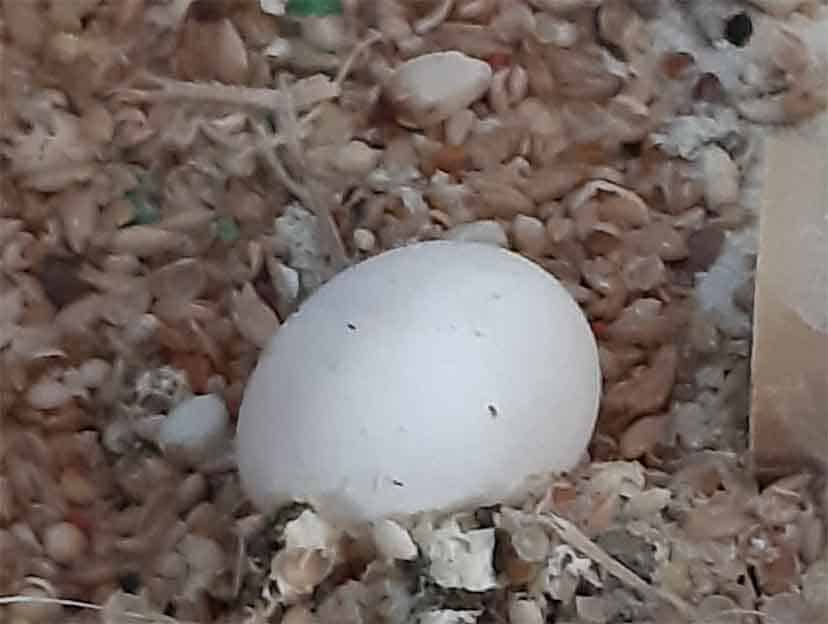 Signs of egg binding and dystocia besides tail bobbing
Wide stance
Loss of appetite
Abdominal distention
Fluffed feathers
Lameness/leg paralysis
Difficult breathing
Sitting on the floor of the cage
Preventing egg binding and dystocia
Both egg binding and dystocia can be prevented by giving your lovebird a proper diet. Switch from a seed only diet to something with more vegetables in it. Also provide them with calcium, this can be done in the form of cuttlebone.
Also try to prevent or reduce your lovebird's hormonal behavior.
Going to the vet with Apache for tail bobbing
My lovebird Apache was tail bobbing, it was hard to notice at first as she likes to hide it. This is normal behavior in lovebirds, who as a prey species will try to hide sickness from predators. I would find her tail bobbing in the mornings and in the evenings. But only from a distance, once close she would be completely focused on what I was doing.
It made it extremely hard for me to see if it was actual tail bobbing or normal breathing. Especially since she was acting like a normal healthy bird otherwise. Playing, making noise, chirping, destroying, eating, and bathing.
When I heard her wheezing, I knew something was wrong. Even if I only heard it for a few seconds, so I called the vet and explained the situation to them. After she finally sat down on one of her perches, we noticed her tail bobbing.
I was given some medication which I needed to give to her in her food for 10 days, twice a day. Hopefully, this will resolve her problem.
What I did to prevent tail bobbing in the future
The next step is to eliminate every possible way that she could have been infected. I firstly gave the entire cage a good scrub, longer than normal, going into every nook and cranny twice. All plastic material was thoroughly cleaned as well.
Since I managed to get her to switch to pallet food, I know she gets her vitamins. Getting her to eat extra veggies and fruit still is a challenge though.
I think the location of her cage is too close to the kitchen, so I will have to figure out another place for her… which could be somewhat challenging but I will figure something out.
For now, she is still chirping, bathing, eating, and playing, so it all looks positive at the moment.